This baked beans recipe is more work than some others, but the first time you taste slow-cooked baked beans, you'll agree they're worth the trouble.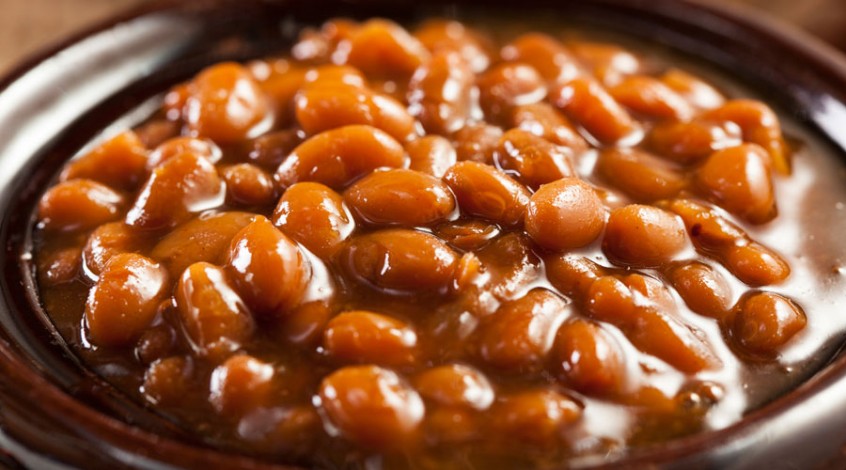 Old-Fashioned Baked Beans
Slow-cooked baked beans - worth the trouble.
Ingredients
3

cups

dried navy beans

(about 1 1/2 lbs)

¾

lb

salt pork

1

medium onion

¼

cup

light brown sugar

2

tsp

salt

2

tsp

dry mustard

1

cup

light molasses
Instructions
Wash the beans the day before, discarding those that just won't do. Cover the beans with 2 quarts of cold water, cover, and refrigerate overnight.

The following day, drain the beans and place them in a 6 quart kettle.

Cover with 2 quarts of cold water.

Bring to a boil, and reduce heat.

Simmer, covered, for about 30 minutes.

Drain (but keep the liquid).

Preheat over to 300 degrees.

Trim the rind from the salt pork, and cut the pork almost all the way through at 1/2 inch spacing.

Place the onion in the bottom of a 4 quart bean pot or casserole dish.

Add the beans, and bury the pork, with the cut side down, into the center of the beans.

Heat that been liquid which you saved to boiling.

Combine the rest of the ingredients, and pour in 1 cup of the boiling bean liquid to blend ingredients.

Pour the mixture over the beans.

Add about 1 1/2 cups of boiling liquid, just enough to cover the beans.

Baked, covered, for 6 hours, stirring every hour or so to help the beans cook evenly.

If beans seem dry after stirring, just add a little boiling water.

If you like the top of the beans to brown, just remove the cover for the last 30 minutes or so of baking.